A Guide for Self-Determined Action
Author: Dan Wiener
Price E-Book: CHF 15.80
Price Editon: CHF 19.80
Shipping: CHF 3.00
Pages: 115
Format: 15,5 x 21 cm
Cover: Hardcover
ISBN: 978-3-9525354-4-8
ABOUT THE BOOK
Individual responsibility is the basis of a successful and fulfilled life. It is considered a matter of course in today's professional world. But not everyone is able to cope with the freedom that comes with it. We are too used to placing responsibility on each other. We feel that we are limited by others' opinions, adverse circumstances, or even destiny. The key to freeing ourselves from this plethora of limitations lies in a successful management of oneself.
In this book, Dan Wiener succeeds in making us face issues we like to avoid. He patiently guides us step-by-step from the vision through the planning to the achievement of our goal. As an artist, author and management trainer the author knows all too well the pitfalls, stumbling blocks and inner temptations on a path to self-determination. As a seminar instructor and consultant he has found time and again that he is not alone in this. The tools and tips that he provides, supported by numerous examples, are also very practical.   Manage Yourself, Before Others Do is a valuable guide for how to approach your daily professional tasks in a more self-determined, dynamic and satisfied manner.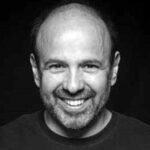 Dan Wiener has over 30 years of stage experience as an actor/musician and is the winner of the "Salzburger Stier" award, the most prestigious cabaret prize in the German-speaking world. As a communication trainer, he has shared his well-founded expertise with leading companies since 2001. Alongside his consulting activities, he holds seminars on all the relevant communication topics, including presentation and leadership skills.
5 Questions for Dan Wiener
You work on the theatre stage, write songs and stories – and now, a guide for managers. How did that come about?
I am interested in human stories, be it on stage or in day-to-day life. I have been a communication trainer for 20 years as well. This gave me insight into a wide range of companies and their cultures. Over time, I have gathered a wealth of experience that I want to pass on.
In three sentences, what is the book about?
Three aspects are decisive for acting with individual responsibility and self-determination: knowing what is important to you, making the appropriate decisions, and actually putting them into action. The path to this runs through clear focus, creative and solution-oriented thinking, and sustainable change. My book provides a clear way to do this, with practical tools.
How much personal experience is behind this book?
A great deal. Good self-management is vital for a creative artist. In the cultural environment, there is a widespread lack of money, infrastructure, and sometimes even competence. You learn to take things into your own hands. At the same time, I have been able to take advantage of others' experiences due to my long-time consulting work. Both sides are represented in this book.
Have you discovered anything new about yourself when writing it?
Seeing my written thoughts from the outside was a nice experience. I can compare it to hearing one of my compositions once I play it myself: a view from the outside into my inner world.
In the current pandemic, self-management has become the trend. Does your book provide any concrete tips that could help deal with the crisis too?
We are living in a time where we are questioning many things, but we should not lose sight of the bigger picture. As difficult as the situation is right now, it can always be an opportunity to fundamentally rethink things and to focus on what is really important to you.